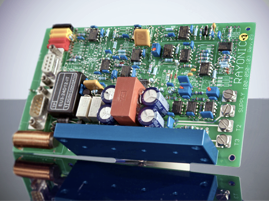 Tailored Solutions
Rayonic develops and manufactures customer specific solutions surrounding the thickness and coating thickness measurement with X-rays.

X-ray sources from 4.9 keV for the measurement of thin plastic film up to 160 keV for installations in steel hot rolling mills have been developed by Rayonic according to customer specifications and requirements and for the integration in their measurement systems.
Also for special components such as the control and driver electronic of a high powered x-ray source Rayonic could deliver a series-ready product within a very short time.
The Rayonic know-how is also in great demand when it comes to precision mechanics for example a multi-axis sample scanner with travel distances of 1m and positioning accuracies of better than 5 microns.
If you too need customized solutions and products then please contact us!